Ipoh-born Kamila Kamaruddin followed the route taken by many non-Malays and non-Muslims – she ventured overseas to be able to flourish, contribute to society, and be recognised in her own right.
When people discuss discrimination, few believe that a Malay would be affected, but in her youth, Kamila had to endure bullying, intolerance and prejudice.
Today, she is a doctor with three decades of experience working in the National Health Service (NHS) in England, and has won many awards for her contributions to society.
Despite her achievements, she said, "I am simply not allowed to work in Malaysia."
The issue about being unable to practise in Malaysia has nothing to do with her profession. Kamila is a transgender doctor and in conservative Malaysia, she is deemed an "unworthy" person.
Despite being a partner in her practice and winning various awards, such as Finalist GP 2018, Pulse Magazine UK, Diversity and Inclusivity Award, Tower Hamlets 2018 and the Royal College of General Practitioners' Inspire Award 2019, she is sad that she is considered to be an outcast in Malaysia, and her achievements mean nothing to many Malaysians, and the governing authorities.
She said, "My success is considered to promote a lifestyle which would motivate the trans people. Malaysians are only interested to hear about trans people who are killed or assaulted, as if they deserved such a fate."
Anyone who were to meet Kamila for the first time would notice that she exudes an air of confidence, and puts strangers at ease with her friendly demeanour. Her clothing is chosen with great care, to accentuate the woman inside the clothes.
Her muscles are toned from cycling, but she confessed, "I was once timid, shy and quiet. I lacked confidence and did not excel in sports. I excelled in my studies, and reading was an escape from my misery at school."
Youngest in the family
Kamila is the youngest in a family of seven children. Her mother was a teacher, whilst her father was a civil servant in the Education Department. Both instilled values of self-respect, respect for others, and the importance of education, in their offspring.
When she found out that Kamila was being bullied at school, her mother said, "Don't worry. One day you will be better than them." Today, Kamila has triumphed over many of her bullies.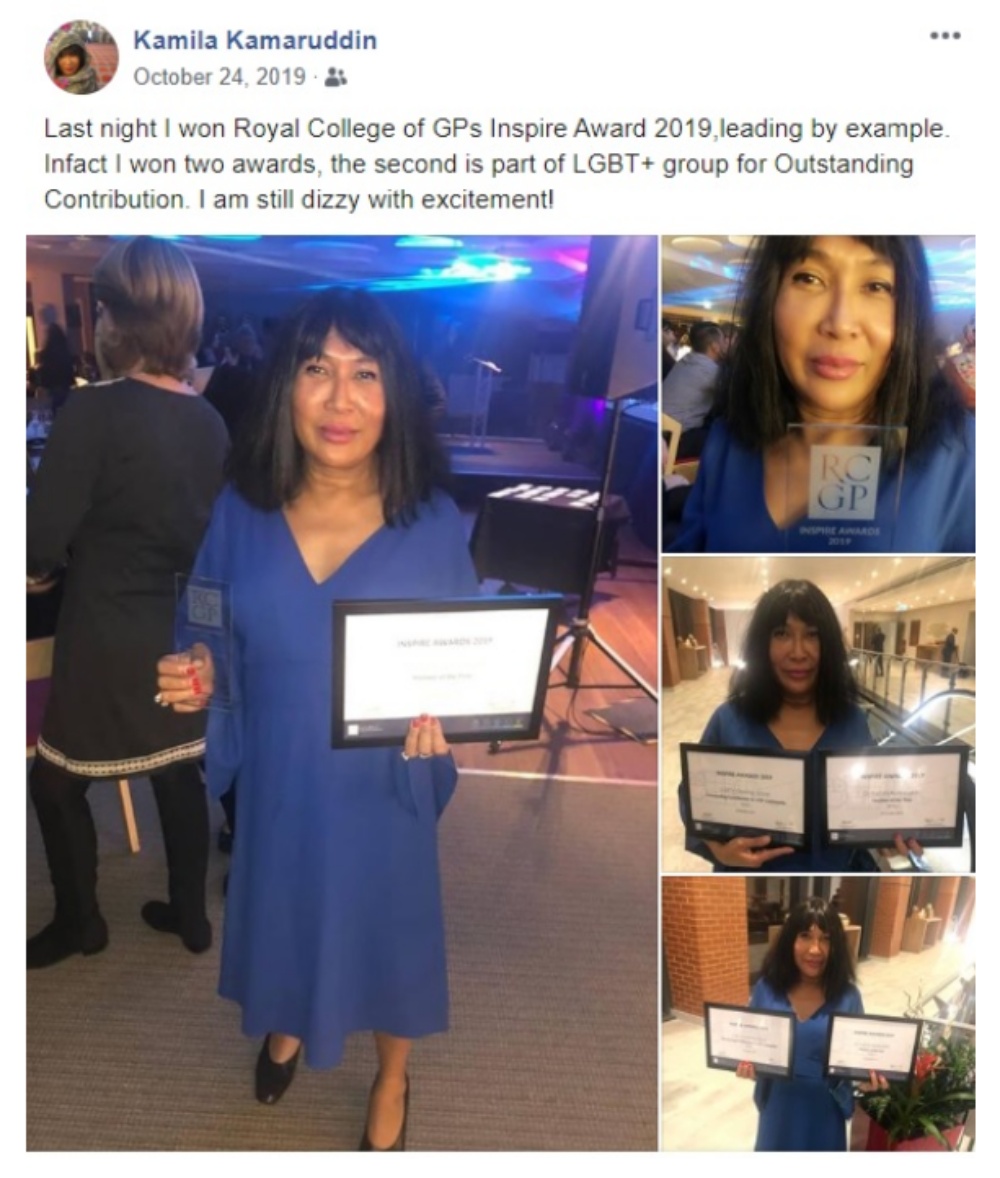 The young Kamila went to St Michael's Institution before boarding at Malay College, Kuala Kangsar (MCKK). Despite many lasting friendships in MCKK, many of whom are supportive of her transition, she joked that she still lacked the courage to attend any Old Boys' Dinner.
After one year of studying medicine at University Kebangsaan Malaysia (UKM), she was offered a place to continue her studies at the Catholic University of Leuven, in Belgium, on condition she learnt Flemish before her enrolment.
After graduating as a doctor in 1987, Kamila returned to Malaysia as a trainee, but left for England in 1990 to work in the NHS. She doubts that her career would have developed had she remained in Malaysia.
"Malaysia must treat trans people as equal citizens, protect their rights, provide access to education, health care and job opportunities. They must protect trans people from harassment, violence and discrimination," said Kamila.
Lack of compassion
Despite the reports of many trans people dying after consuming unregulated and contaminated hormones purchased from the internet, the Malaysian medical community refuses to help.
Kamila is furious about the lack of compassion and support given by medical professional bodies.
"The government has decreed that trans people should not receive medical treatment, and they have no access to affordable health care. The response from the medical community is woeful, and few object," she said.
"The absence of a statement from the Malaysian Medical Committee is disappointing."
Kamila's goal is to open a gender identity clinic in Malaysia to support trans people and provide them with better health care, better mental health provisions and better hormone treatments; but to convince Malaysian leaders to improve health care for trans people would mean barriers would have to be removed and a dialogue started.
"Give the trans community the respect they deserve. Trans people have existed since the dawn of time. Their existence cannot be erased. Provide them with health care, access to education and job opportunities. Embrace trans people as respected citizens of Malaysia. Stop treating trans people as lesser people. We do not deserve that," she said.
Library and computer club
To honour the legacy of her parents, who championed education, Kamila and her siblings opened a library and computer club for a rural school in a deprived area in Ulu Langat, Selangor.
She would like trans people who have doubts about their own bodies to obtain support from friends, family and colleagues. She said, "Believe in yourself, because being true to yourself is perhaps your biggest achievement in life."
She advises Malaysians with gender identity issues to contact the trans community, Pink Triangle and various NGOs.
Kamila hopes that in the "new" Malaysia, the government will follow the lead of Britain and create better awareness and produce legislation and laws that protect the rights of trans people.
She said, "Stop mis-gendering trans people, because that causes great emotional pain. Show compassion. Protect their rights.
"Positive stories about trans people should be highlighted. They are resourceful and hard working. Their success should be celebrated."
Kamila is a role model for people who lack a voice, and the support, to follow their chosen paths. Her perseverance and success are indeed an inspiration to the younger generation.
NB: This article was first published in Malaysiakini, on 10 January 2020, with the title, "Kamila, the Award Winning Transgender Doctor".