This article by veteran journalist R Nadeswaran was first published in Malaysiakini on 2 May, 2020 and the link can be accessed here.
By R Nadeswaran: Some facts have to be established lest someone scream and labels this writer as a doom-laden alarmist. The figures quoted have been published before and the people quoted in this commentary went on record with their assertions.
Michael Kang is no ordinary Joe – he is the president of the SME Association of Malaysia and he revealed some startling facts and figures.
Four weeks ago, he told Astro Awani's "Consider This" programme that "a larger percentage of foreign workers employed by local small and medium-sized enterprises were hired without a formal employment contract or only paid a daily wage."
Let me make another admission: I never watched the programme that evening but after reading an article in Malaysiakini I requested for reference from the host, Sharad Kuttan for a copy of the interview.
Now, these were Kang's exact words: "The legal foreign workers, I think the percentage is not very high, about 15 percent. I think the majority of them are illegal (irregular) workers. I think there are quite a number of illegal (irregular) workers. They are based on daily job payments or they don't have any contracts.
"So when (companies) totally shut down I think those illegal (irregular) workers, those SMEs don't need to pay them. (Companies are) only focused on those legal workers and that is why we (SME Association) have asked the government to look into the levy. And that is why the government gives a 25 percent discount on levy."
Three issues stand out and need some serious attention from all concerned – the government, the employers and even us – the rakyat.
Firstly, I accept that not all SMEs are involved in such practices and I believe there are some, if not many, who go by the book.
Secondly, I did not venture into picking up unverified figures or reported figures which have not been authoritatively verified. The Statistics Department has asked not to believe any figures without providing any of its own data on illegal workers.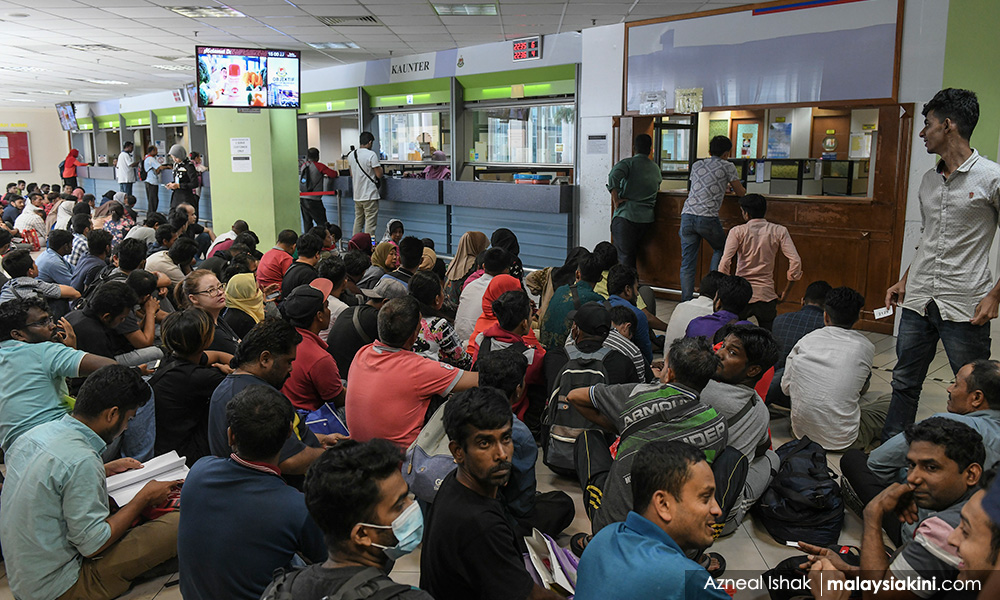 Its force statistics (STB) preliminary data for 2019 on April 11, 2020, stated that Malaysia's labour force recorded 15.6 million people in 2019 compared to 15.3 million in 2018. These comprise 13.3 million citizens and 2.3 million non-citizens.
However, the Malaysian Employers Federation (MEF) executive director Shamsuddin Bardan was quoted by the Straits Times as saying "there could be up to 3.3 million illegal workers in the country, against 2.2 million documented ones".
He said a "conservative estimate" put the number of illegal foreign workers in the country on par with their legalised counterparts. "However, many believe that for every legal foreign worker, there are about 1.5 illegal workers," he was quoted as saying by the Singapore daily.
Using Shamsuddin's figures and Kang's percentages, there could be at least a million foreigners on our streets without jobs, without a roof over their heads and looking for their next meal. Since they have no contracts, employers as Kang indicated, have no obligations whatsoever and will let them go.
Thirdly, in good times laws were bent and broken to bring about a healthy bottom line. In lean and mean times, confessions and admissions – the bitter truth — are mandatory because the begging bowls are being extended.
Again, I don't want to be accused of presenting wrong, erroneous or irrelevant figures, but using those provided by both MEF and the SME association let us of extrapolating them.
Assuming SMEs employ just one million foreigners, then 850,000 are illegal. This means the levies were never paid to the government. Levy is set at RM1,850 for the construction and services industries per worker per year.
This means a whopping RM1.56 billion has been lost in government revenue annually. For how many years has this been going on? Please take out your calculators.
In short, SMEs had "short-changed" the government by employing foreigners illegally – without applying for work permits and without paying the pre-requisite fees.
Having broken the law and deprived the government of revenue that it badly needs, the question is: Should SMEs be given further handouts despite their shortcomings?
The maxim "He who comes into equity must come with clean hands" should be operational in this instance.
It bars relief for anyone guilty of improper conduct in the matter at hand. It operates to prevent any affirmative recover for the person with "unclean hands," no matter how unfairly the person's adversary has treated him or her.
Besides, the SMEs are also getting wage subsidies for those drawing RM4,000 and below monthly. This will cover 4.8 million workers but do the bosses needed to be helped?
Yes, the over-used cliché is "SMEs are the backbone of Malaysia's economy" but how long can this mantra be sung when there is little regard for the law, rules and regulations?
The obvious and expected excuse would be "government red tape is delaying the process of the application." As I said in a previous column, the system needs to be fixed. We cannot go on operating with a faulty, good for nothing, corrupt, inept and incompetent system.
Make the SMEs apply for the work permits (with a 25 percent discount), expedite the process before releasing any payment. Surely, the government can't be and should not be seen putting money into the pockets of lawbreakers!
So, when honest, hard-working and law-abiding individuals ask for handouts to feed his family, who takes precedence?
This is food for thought.
(The views expressed are those of the contributor and do not necessarily reflect the views of Rebuilding Malaysia.)
(NB: The pictures of workers, are from Malaysiakini)